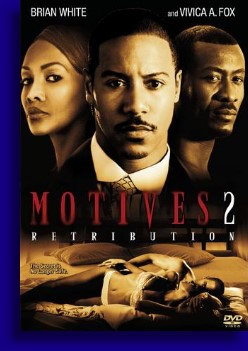 Four years ago Emery Simms (Shemar Moore) went to jail for a crime he didn't commit in the original 'Motives'. Now even though Emery didn't kill Allanah James (Golden Brooks) back in the day, he still kind of got what he deserved because he was always up to something. Now it's time for some 'Retribution', though it's unlikely that Emery will be the one getting this retribution since he's about to get shanked and all in a sequel to the first film 'Motives 2: Retribution'. The first film was incredibly silly, slick, convoluted, ridiculous, over-plotted but also a very entertaining fun ride in the lives of some phenomenally good looking Black folks behaving very badly. 'Motives 2: Retribution' is slicker, not quite as silly, a little less ridiculous, still way over-plotted and has even more incredibly good looking Black folks behaving badly, but isn't quite as much fun as the original.
Our film opens with one Detective Morgan (Mel Jackson) investigating the drug overdose of a police forensics expert. Why is this relevant? We will soon find out, but not until we meet our players. Donovan Cook (Brian J. White), Emery's estranged brother, is a businessman who is making deals and bedding the ladies. When we first meet Donovan he making some deal with the sexy Saundra (Dayva Vaidya - smoldering hotness), a deal that apparently requires a late night visit to finalize some particulars. Outstanding. What Donovan should be doing is going home to be with his loyal girlfriend Rene played by Drew Sidora – who is hot to be sure, but young enough to be my daughter, almost, so we gotta lay off on the superlatives. Donovan gets a call from Emery's long time lawyer Ray (William L. Johnson) that Emery just sucked up a shank and moved on to the next plane, but Donovan could care less, until he learns that Emery left him a sizable amount of stock in his company, cash that he could really use about now for his own business interests.
This reacquaints us with Brandon (Sean Blakemore) and his wife Connie (Vivica A. Fox – hot since '91 and still going). Brandon is now running Emery's company on


behalf of his wife who is still the principle shareholder, but he's none too happy with the troublesome Donovan who has come aboard and is a making a ruckus. Those of us who watched the first movie know full well that Brandon will take things to next level if he feels threatened enough, so Donovan might want to watch his ass. But before it reaches that level of seriousness Brandon tries to convince his lovely assistant Nina (Sharon Leal – sophisticated hotness) to go above and beyond the call of duty to get some dirt on Donovan, but she's obviously not a team player. Brandon also has the Detective we met earlier in the day in his hip pocket, a detective who managed to suppress some critical information about the Emery Sims case that might have set Emery free. What started out as Donovan just wanting to secure some investment capitol has turned into something much greater as he has set about trying to clear the family name. But we know that Brandon has killed before and will not hesitate to kill again to preserve all that he's worked so hard to steal. Watch yourself now.
'Motives 2: Retribution' is technically superior in every conceivable way to the original 'Motives' but it doesn't have that first films electric spark and overall sordidness that made watching the original so unexpectedly entertaining. This is surprising because 'Motives 2' has a fantastic cast of solid actors driving the narrative forward. We've been wondering on this rarely read site for years why Sean Blakemore and William Johnson aren't top-line stars by now since both of these dudes seem to have skills, screen presence and looks (so I'm told) to be big time movie stars. Brian J. White and Vivica Fox are already movie stars and Sharon Leal is on the verge of being one. But where the first movie had a convoluted plot that spread largely along three characters, this one had a convoluted plot that spread across seven or eight characters and that was just way too many characters for this story to support the way that it was written. Because of this the movie had to sacrifice action and exploitation for exposition in order to service the large number of characters it had to support, and with the number beautiful women that Rainforest Films had the foresight to cast in this movie, losing opportunities to exploit them is not a good thing. Not that we encourage that of course. Even with this being the case there are still large plot holes and confusion in the narrative despite the attempts of the filmmakers to fill these holes with long stretches of dialog. Personally I would have just showed Sharon Leal running around in her underwear some more to cover these plot holes, not that we support that kind of thing of course.
'Motives 2' isn't a bad movie as director Aaron Courseault frames a beautiful picture, the presentation is slick and flawless, the production values are sky high and the performances were solid but it moved too slow to be called a thriller and wasn't quite sexy enough to be erotic. Certainly not a waste of one's time to watch, but still 'Motives 2' comes off as a bit of a disappointment.